Happy New Year to all! It was a wonderful break, and I'm looking forward to my first class of the semester tonight, it will be a small intimate group, filled with students that I have taught in the past, so I'm really excited to work with them again.
The holidays were a bit hectic, the City of Craft an overwhelming success and the Mavrick show great fun as well. It was really nice to meet so many of you, and to connect in person...it's much more meaningful for me to meet people face to face, and It's fun to hear all of your stories.
A fiddler from Cape Breton who currently lives in Scotland recently visited the studio to collect a special piece for his sweetheart to take back to her for the holidays, I was happy to hear back from him that she was happy with the gift. It's really great to hear back from people, and the work transforms into its new life, somewhere else.
I've been slowly crawling back to the studio, and am still reluctant to take down my Christmas tree...I'm going to do it this weekend, I swear. I love turning the lights of the tree and above the fireplace on at night and hiding under my cosy, plaid blanket.
Etsy recently featured my work on their blog, on the main page, a treasury called "Ice Worlds", alluding to the creatures and space of the northern hemisphere. Admittedly, it's not icy or even chilly in Toronto recently, I went for a run this morning, and everything is a melty mess.
Well, I'm off to the studio, and working towards finishing up some work for the Toronto International Design week which is coming up soon! I will post some images of the work as it develops!
Here is the etsy blog: http://www.etsy.com/listing/106676708/ice-worlds?ref=storque
xoxo.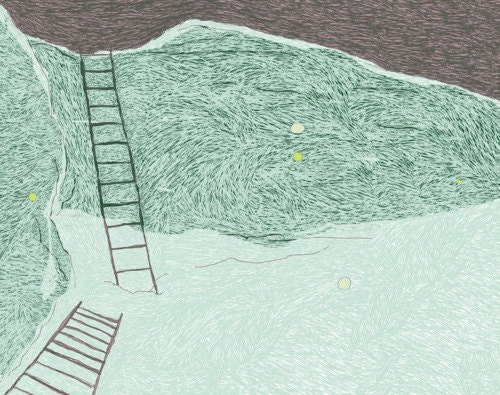 Ice Worlds. Pauliana R.Varragn