My friend, Swati posted an amazing photo and link to my facebook page to which I immediately responded..."WHAT SORCERY IS THIS?!!!!!"....initially drawn to the scale of the work, and the fact that the artwork is housed in beautiful, turn of the century jewellery boxes, the content then
began to reveal itself.
This imaginative and fantastical body of work that provoked an all caps response, is by Toronto based, Trinidadian born, Canadian artist, Talwst.
Talwst exploits and explores themes of marginalization, humour, human history and art history in his work. His work explores these themes both whimsically and imaginatively, without sacrificing the gravity of the content. In fact, the humour of the work is what really drew me in and had me both laughing out loud and moved to tears by the interiors of these miniature worlds.
Like a stage production, set at the point of the climax in the drama: the curtain lifts, as each jewellery box illustrates a tale of intrigue, romance, hilarity and heartbreak.
Many of the political pieces become precious Memento mori objects that honour and illuminate tragic moments in recent history that while reference art history, will also, I feel become a part of art history. I am so inspired and excited that he is making this very important work.
Take a look at his work below, check out his website, and if you're in the GTA,
check out his exhibition at The Mississauga Art Gallery, which opens soon, and this statement by the curator
of his "Minimized Histories: Marginalization and Unrest".
Check out this article in The Guardian, where Talwst describes the stories behind many of his most popular pieces. And check out this curatorial statement of the artist's most recent exhibition, which opens next week, at the Art Gallery of Mississauga.
"Inspired by the unflinching scenes of Goya's Disasters of War etchings, TALWST turns his meta-referential, pop-culture and art-history laden Infinity series into a searing indictment of the elision of narratives of people of colour and marginalized communities, particularly of those raised in protest or activism. Where previously his miniature dioramas in antique ring boxes featured pop-culture icons Kanye West and Kim Kardashian's cavorting in front of Pontormo's Deposition from the Cross, this new body of work sees Frida Kahlo meet Missing 43 protesters in Mexico as TALWST subverts the bright street scenes of Enser's Christ's Entry into Brussels. Through his work, TALWST forces us to direct intense focus and consideration on the stories of Michael Brown, Eric Garner, missing and murdered indigenous women, among others, and the implications of these narratives in our purportedly post-racial, post-colonial world."
Kendra Ainsworth
After Tom, After Kim, After Acid. 2014.
Olympia Are you Ready? 2009
Execution of Michael Brown
.
Kirk and the money shot. 2010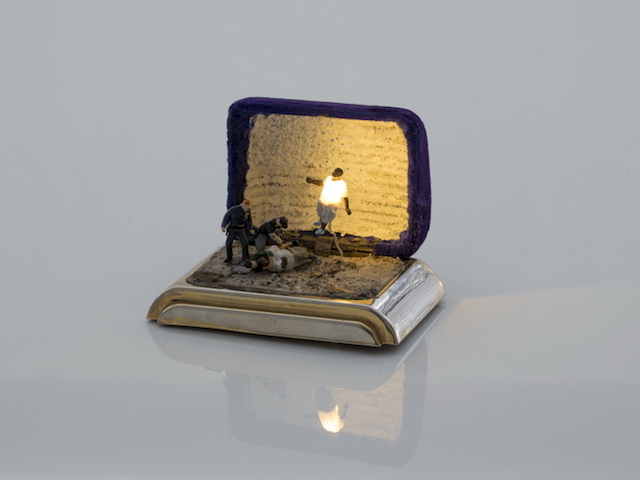 Space Family Rothschild. 2014.
All photos belong to Talwst.